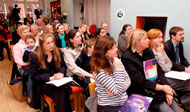 This section is meant to facilitate the sharing of information among partners as far as the dissemination events carried out are concerned.

A description of the event, the number of people participating and the evaluation of the event are available for each dissemination event.
Back to the Dissemination List
click here for the printable version

Partners' Institution:
Hospital Universitario Fundación Alcorcón

Name of the person involved in the event:
Emanuele Valenti, Benjamín Herreros

Date of the event:
04 January 2017 - 04 January 2017

Type of Dissemination event:
Training Seminar

Target group:
Researchers

Number of people reached by event:
10

Held in:
Madrid (Spain)

Description of Dissemination Event:
The project has been presented to a group of bioethicists working in medical students soft skills in the course of Medical Humanities and Communication Skills. Physicians, ethicists, psychologists discussed about the project methodology and the relationship between Softis-Ped aims and clinical bioethics.

Outcomes and Results:
Identify aspects included ninth communication process explored by the project linked to the information process, such as informed consent, ethical issues in communication and handling values in doctor-patient relationship.

Supporting Documents: