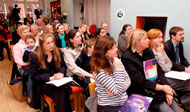 This section is meant to facilitate the sharing of information among partners as far as the dissemination events carried out are concerned.

A description of the event, the number of people participating and the evaluation of the event are available for each dissemination event.
Back to the Dissemination List
click here for the printable version

Partners' Institution:
University of Tirgu Mures

Name of the person involved in the event:
Anisoara Pop

Date of the event:
23 May 2018 - 24 May 2018

Type of Dissemination event:
Presentation to international students during Erasmus mobility to Portugal

Target group:
Students
Teachers

Number of people reached by event:
20

Held in:
Coimbra (Portugal)

Description of Dissemination Event:
As part of an Erasmus+ Teaching Mobility, the students were presented the results of SoftisPed and introduced to some important aspects of softskills for communication in the healthcare context.

Outcomes and Results:
20 students and teachers found out about the Softisped projects and are likely to follow and implement softskills in their future communication with patients.

Supporting Documents: