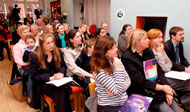 This section is meant to facilitate the sharing of information among partners as far as the dissemination events carried out are concerned.

A description of the event, the number of people participating and the evaluation of the event are available for each dissemination event.
Back to the Dissemination List
click here for the printable version

Partners' Institution:
Azienda Sanitaria Locale TO3

Name of the person involved in the event:
Sandra Vacchi

Date of the event:
07 April 2018 - 07 April 2018

Type of Dissemination event:
Transnational Meetings

Target group:
Public Bodies
Researchers
Training Agencies
Teachers
Universities

Number of people reached by event:
16

Held in:
Florence (Italy)

Description of Dissemination Event:
During the international gathering organized by dr. Joseph Giovannoni, as a member of Watson Caring Science Institute, on "Renaissance of Human Caring in Health Science", held in Florence, April 7th 2018, Sandra Vacchi, ASL TO3 chief nurse in Orbassano outpatient clinic, presented Softis-Ped project and output. Brochure, and associated partner templates were distributed.

Outcomes and Results:
New Italian Associated partners are involved.

Supporting Documents: