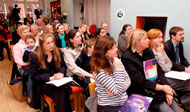 This section is meant to facilitate the sharing of information among partners as far as the dissemination events carried out are concerned.

A description of the event, the number of people participating and the evaluation of the event are available for each dissemination event.
Back to the Dissemination List
click here for the printable version

Partners' Institution:
University of Tirgu Mures

Name of the person involved in the event:
30

Date of the event:
26 February 2017

Type of Dissemination event:
Dissemination during classes

Target group:
Students

Number of people reached by event:
30

Held in:
Tirgu Mures (Romania)

Description of Dissemination Event:
A group of first year students of the University of Medicine and Pharmacy of Tirgu Mures were informed about the aims of the Softis-Ped project and invited to follow the Project Portal in order to be updated with information and project results.

Outcomes and Results:
Students were interested in the objective of the project and were eager to contribute to the project dissemination.

They Liked the project Facebook page and chose to Follow it.
As part of their class activity will be their contribution to one of the Project FB page: i.e. of interviewing different parents of pediatric patients about how they feel pediatric services could be improved.

Supporting Documents: