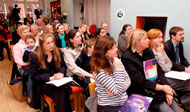 This section is meant to facilitate the sharing of information among partners as far as the dissemination events carried out are concerned.

A description of the event, the number of people participating and the evaluation of the event are available for each dissemination event.
Back to the Dissemination List
click here for the printable version

Partners' Institution:
University of Tirgu Mures

Name of the person involved in the event:
Anisoara Pop, Oana Marginean, Meda Georgescu, Suciu Nicoleta, Azamfirei Leonard

Date of the event:
14 December 2017 - 15 December 2017

Type of Dissemination event:
Poster presentation at the Scientific Session of UMF, University Days

Target group:
General Public
Researchers
Students
Teachers
Experts
Universities

Number of people reached by event:
500

Held in:
Tirgu Mures (Romania)

Description of Dissemination Event:
Poster Presentation - Using Softisped doctor-patient communication strategies to teach Medical English during the University Days in Tirgu Mures. The poster presented the most important strategies developed by the project team during IO2 and the way in which these can be used in other communication settings.

Outcomes and Results:
Poster exhibited in the University
Poster published in the event booklet and on the Internet
Poster identification elements published in the programme of the conference.
The paper abstract will be published in the Conference Proceedings.

Supporting Documents: